The global mining industry encompasses a wide range of industries and activities associated with the extraction and processing of minerals, metals, and other valuable materials from the earth. The main types of mining operations include support activities:
General minerals such as stones, copper, nickel, lead and zinc

Metal ores

Coal

Lignite and anthracite.
Underground and surface mining are the most common processes used in this sector. Service providers to the mining industry include independent contractors as well as large companies.
In 2023, global mining market has grown by 6.1%, reaching $2145.15 billion, just a small increase from its 2022 value of $2022.6 billion. However, this growth was stifled by external economic factors, such as the COVID19 pandemic. This is an example how world events can have an effect on otherwise steady markets such as the global mining market.
This is an analysis of of the mining industry, its performance over the years, what the future looks like and its contribution to the global economy.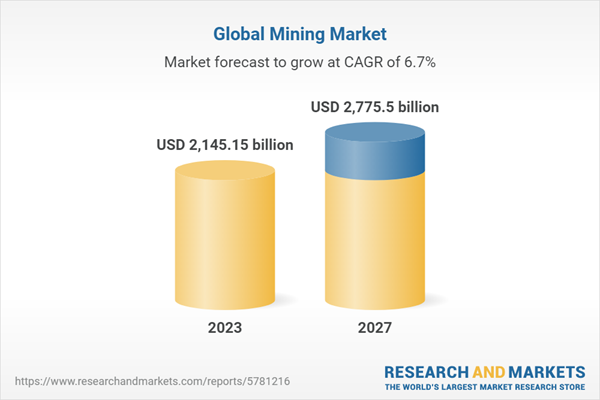 The Leading Mining Countries
Mining is an essential industry on a global scale, providing a wide array of resources required to facilitate economic development and meet the needs of humanity. As a result, different countries around the world engage in mining operations to extract minerals and produce commodities that are valuable. Across the globe, some of the most sought-after mined commodities include iron ore, coal, potash, and copper which are found in significant quantities across multiple continents.
Leading mining countries use their natural resources to attain immense success by supplying these minerals internationally. China is the biggest miner in many commodities like coal, iron ore, and copper with Indonesia and India following their lead as major coal producers.
The Biggest Mining Companies
The mining industry is home to some of the largest companies in the world. As of October 2022, BHP had the highest market capitalization, at 124.7 billion US dollars, followed by Rio Tinto, Glencore and the Brazilian company Vale. When looking at revenue generated by a single entity, Glencore comes out on top with 203.8 billion US dollars in 2021 alone. However it's important to note that a large portion of this revenue comes from Glencore's commodity trading operations.
Amongst the top 10 companies active in mining worldwide in 2023, three are Chinese mining mining firms CMOC Group, Aluminum Corp of China, and Zijin Mining. This highlights China's heavy involvement in both coal and metal extraction activities; a sector which provides employment to hundreds of thousands throughout the country.
All things considered, it is clear that some of world's major corporations derive their power and wealth from the resources found beneath earth's surface and should play an important role responsible economic development as well as environmental stewardship.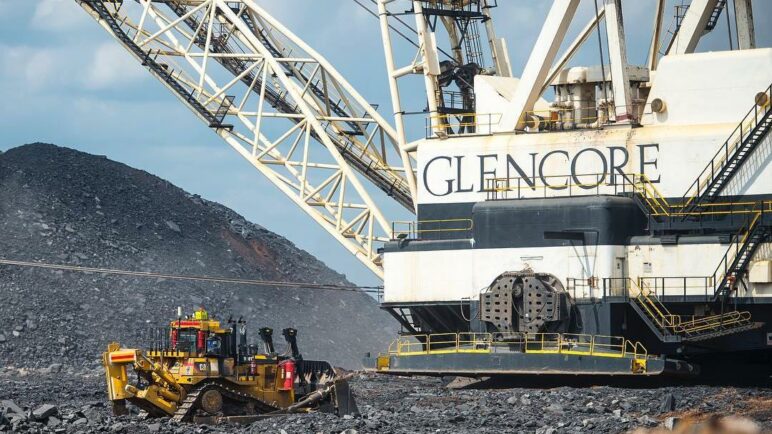 What is The Value of The Global Mining Market (2023)
The Global Mining Market is a massively important industry with huge potential. Its estimated value in 2023 stands at $2145.15 billion, making it an extremely lucrative area to invest in. Not only can mining be used for the extraction of raw materials, but also for innovative advances and technological breakthroughs that have the power to change entire industries forever.
In terms of operations, the Global Mining Market encompasses a variety of submarkets such as coalmining, metal ore mining and other mineral mining services. On top of this, many projects are conducted on an international scale to increase production rates and boost profitability. From digging up precious metals like gold and silver to maintain supply chain efficiency by extracting industrial metals essential for manufacturing, there's no doubt that professional miners are critical when it comes to keeping up with modern industry trends.
It goes without saying that the Global Mining Market has an impressive potential value for investors both now and in years to come. For those interested in diversifying their portfolios or getting access to untapped resources, this could be a hugely beneficial move – not only economically but environmentally too due to the often-decreased energy needs associated with more primitive methods compared to traditional industrialization processes.
Is the Mining Market Growing?
The Global Mining Market is a growing industry that has experienced rapid growth in recent years. According to research, the Global Mining Market is expected to reach a value of $2775.5 billion by 2027 with a compound annual growth rate (CAGR) of 6.7%. This puts the Global Mining Market at an impressive growth rate that is three times faster than the average global market growth rate.
The sheer size of the Global Mining Market and its corresponding economic potential make it an attractive option for companies worldwide. In addition to this, the sector is also well positioned for further expansion as it relies on continual advancements in technology, such as automation and artificial intelligence, in order to maximize efficiency and maximize profitability.
Countries around the world are beginning to recognize the importance of the mining industry and are investing heavily into it in order to bring about even more economic prosperity and sustainability. With these factors continuing to improve, the opportunities available within this sector will only continue their upwards trajectory.
Forecasted size of the Global Mining Market
The Global Mining Market is one of the most promising industries right now. The market size of the Global Mining Market has been steadily growing over the years due to the increased popularity of different minerals and metals in our daily lives. Consequently, experts are estimating that by 2027, this market will be worth a whopping $2775.5 billion dollars.
This rapid growth is primarily attributed to a larger number of miners taking up new projects and investments being pumped into current mining projects all around the world. Governments are also doing their bit by providing incentives to miners in order for them to invest more in research and development activities related to mining technology as well as improving access to funding via grants and loans.
The advancements in technology have made it easier for operators to locate resources quickly with minimal disruption to the environment, driving further growth in the industry. This expected growth could also open up opportunities for countries with minerals and metals reserves that they hope can benefit from exporting these precious commodities.
The Key Players in the Global Mining Market
The mining market is highly competitive with many players. Some of the main players in the mining market include
BHP Group,
Vale S.A.,
Rio Tinto,
Glencore International,
Anglo American plc,
China Shenhua Energy Company Limited,
China Coal Energy Company Limited,
The Metallurgical Corp of China,
Coal India Ltd, and
Corporation Nacional del Cobre de Chile.
These companies have a large market share and play a major role in the global mining industry. They are involved in exploration, extraction, and processing of metal ores and minerals to meet the industrial sector's growing demands.
As per the latest report released by Markets and Markets Research Firm , the world market is estimated to be valued at USD 2145.15 billion by April 2023 escalating to a projected value of USD 2775.50 billion by 2027 with an estimated Compound Annual Growth Rate (CAGR) of 6.7%.
The growth can largely be attributed to rising technological advancements in automation and instrumentation used for ore identification along with their successful product launches focusing on boosting safety mechanisms despite being hampered by their operational cost pressured by natural resource constraints. Thus these key companies remain as prime drivers of growth for this market.