The mining industry plays a crucial role in the global economy by providing various resources and materials that are necessary for the production and maintenance of products and services. To obtain these resources, miners extract valuable ores and minerals from the earth by digging open cuts or underground tunnels into large areas called mines. Some of these are the biggest mines in the world and have grown to be expansive in terms of area, size, and depth.
Large-scale mines extract significant quantities of metals such as copper, iron ore, coal, gems, and other valuable stones. These locations are typically situated in remote regions across the world's diverse geography. As a result, these massive ventures are often concealed from the general public, but they continue to maintain their production levels to satisfy the growing global demand for their precious resources with unique origin tales.
Let's explore the world's top 10 biggest mines to get an idea of their actual size. These mines cover thousands of hectares of land with varying depths that can reach up to kilometers deep. Their impressive size has made them significant extraction sites, providing valuable resources that have contributed to the progress of human civilization.
Let's take a look at the biggest mines in the world!
A mine is an excavation on the ground in order to obtain a mineral such as coal, diamonds, copper or gold.
What is the Biggest Mine in the World?
Here are the biggest Mines in the World:
Bingham Canyon Mine, USA
1. Bingham Canyon Mine, USA
Mining Company: Rio Tinto
Annual Production: 159,400t of copper, 139,500oz of gold, 7,600t of molybdenum, and 2.22 million ounces (Moz) of silver
Mine Depth: 1.2km
Mining Method: Open Pit
Mineral/ Metal: Copper, gold, silver, molybdenum, tellurium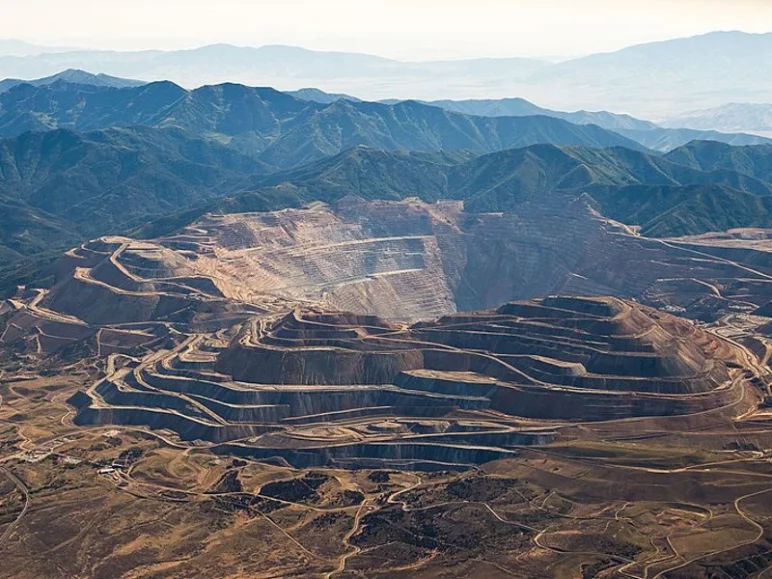 The Bingham Canyon mine is located near Salt Lake City, Utah, USA. It is the world's deepest man-made open-pit excavation site. The mine is also the largest copper mine globally but has also produced materials such as gold, silver, molybdenum, platinum, and palladium. It has been in operation since 1906 and is massive, measuring 4.5km wide and 1.2km deep. Over 19 million tonnes of copper have been produced from this mine to date. Rio Tinto, the owner of the Bingham Canyon mine, has stated that the top of the mine is so large that a football field could be laid across it 38 times.
In December 2019, Rio Tinto approved a $1.5 billion investment to extend copper production at the site until 2032. The mining company's goal is to further extend the mine by 300ft, surpassing 700 Mt of copper ore. This will solidify the mine's position as the largest mine in the world. The mining operation employs a rotary drilling/blasting – shovel/truck–in–pit crushing system, with two to four blasts occurring daily.
2. Garzweiler Mine, Germany
Mining Company: RRWE
Annual Production: 30 million tonnes of Liginite
Mine Depth: 40 to 210 meters
Mining Method: Open-pit
Mineral/ Metal: Lignite/ Brown Coal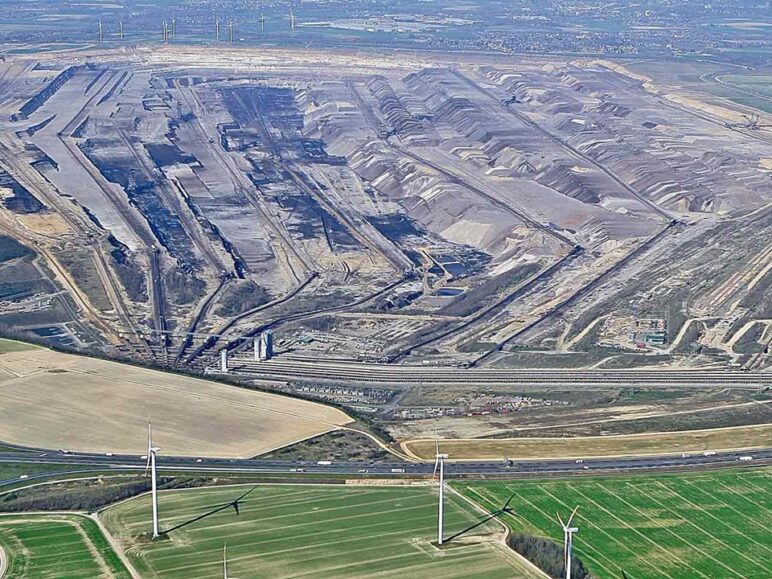 The Garzweiler mine is one of the world's largest surface mines and is located in Germany. It produces approximately 35 million tonnes of coal each year, mainly in the form of a soft brownish coal called lignite. This lignite is found within three seams that average to have a 40-meter thickness. Once it is mined, the lignite is transported through either conveyor belts or an industrial railway to nearby power stations where it is used for electricity generation.
The Garzweiler mine has been in operation since 1940 and continues to be one of the biggest sources of electricity in Germany as it always has a consistent supply of lignite. The mine has been approved for 11,400 hectares of coal fields and currently operates on only 3200 hectares. It still shows to be a great resource for Germany's power production going forward.
Mining Company: Coldelco Corp.
Daily Production: 140,000 tonnes
Mine Depth: 850 meters
Mining Method: Underground (Block Caving)
Mineral/ Metal: molybdenum, gold, silver, sulfuric acid and calcopyrite concentrate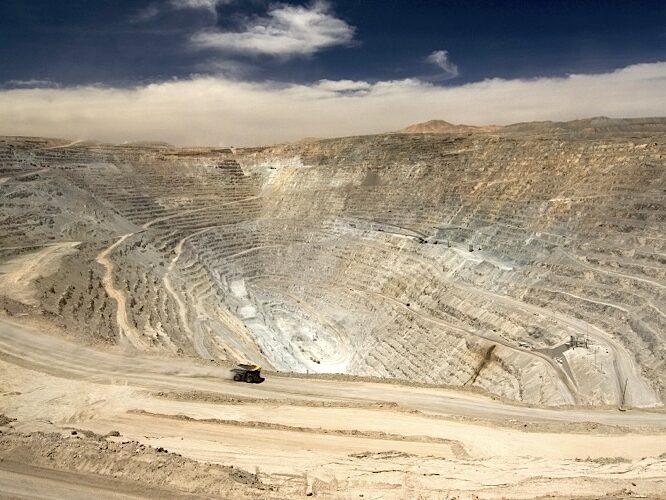 The Chuquicamata Mine located in Chile is one of the world's most impressive feats of engineering. This giant open-pit copper mine has been operating since 1952, producing about five percent of the world's metal. In addition to being the biggest open pit copper mine in the world, it is also known as the second deepest open pit mine measuring an impressive 850 meters. The Chuquicamata Mine boasts a sprawling 1,820 square kilometers in surface area and employs over 15 thousand workers from all over the globe.
For almost 70 years, the Chuquicamata Mine in Chile has produced billions of pounds of copper and other valuable metals like molybdenum, gold, and silver. They also produce sulfuric acid and calcopyrite concentrate. The secret to their success is investing in advanced technology to ensure safe and efficient mining operations. The mine employs skilled operators along with modern equipment like shovel dredges, Lorries, drills, and concentrators to improve productivity and maintain high standards.
As one of the only remaining open-pit mines on Earth, Chuquicamata has recently decided to diversify operations by switching to high-tech underground mining in 2019. By 2060 when all is said and done, this method should deepen the pit by almost 800m with its usual copper production levels remaining intact. It's remarkable how such an extraordinary feat can be achieved at such a large scale while still having minimal impact on the environment around it.
4. Grasberg Mine, Indonesia
Mining Company: Freeport-McMo
Annual Production: 242.7 thousand tonnes of Copper
Mine Depth: 550m
Mining Method: Open-pit and Block Caving
Mineral/ Metal: Gold, Silver, and copper.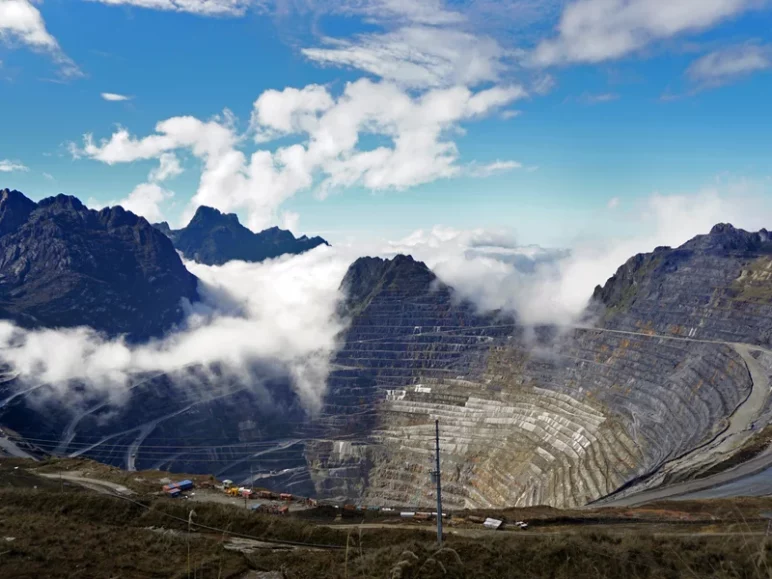 The Grasberg Mine in Papua, Indonesia is one of the world's biggest gold mines and second-largest copper mine. It spans an impressive 4.2km wide by 2.8km deep and has been in operation since 1973. It is owned by the U.S.-based Freeport-McMo Ran and produced a total of 1.06 million ounces of gold and 1.11 billion pounds of copper in 2019 alone.
The Grasberg Mine is an expansive gold and copper mine located in the province of Papua, Indonesia. This mine carries two prestigious titles—the world's largest gold mine and The second-largest copper mine. It is renowned for its depth, measuring up to 4.3 kilometers in length. It produces a substantial amount of ore each year, estimated at one million ounces of gold and three million ounces of silver annually. Consequently, it ranks among the highest being one of the largest mines in the world.
The mining operations at the Grasberg Mine are both open-pit and underground( block caving) This means its staff require mining vehicles that can safely manage resources under treacherous conditions.
Mining Company: Luossavaara-Kiirunavaara AB
Annual Production: 26.9 million tonnes of iron ore
Mine Depth: 2km
Mining Method: Underground
Mineral/ Metal: Iron Ore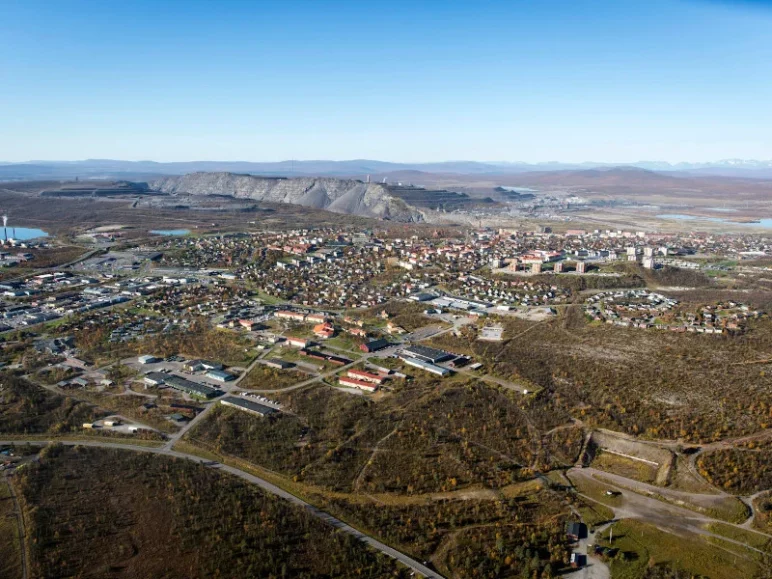 The Kiruna mine is an incredible example of how technology has enabled us to mine deeper than ever before. This iron ore mine in Sweden has been in operation since 1900, and it stretches 4 km long and 2 km deep. It is the largest underground iron ore mine in the world, having produced more than 1 billion tonnes of iron ore with an average production rate of 30 million tonnes per year.
Despite its success, however, the mining activity of this huge undertaking resulted in a massive earthquake that shook the whole nation. Not only did this stop all activity inside the mine, but it was really beneficial to learn more about technology-caused seismic activity and develop solutions to prevent similar events in other mines around the world.
The story behind the Kiruna Mine provides an interesting glimpse into what can be accomplished when using modern technology. By using dedicated personnel and up-to-date machinery, this giant underground project produced over a billion tonnes of iron ore while also providing important data for future mining projects.
Through its influence on geological activities within Sweden's borders, this mammoth project has really shaped our understanding of industrial operations near populated areas. As such, it remains one of the most impressive landmarks contributing to our knowledge about advanced mining techniques and safety protocols.
Mining Company: Alrosa
Annual Production: One million tons of ore per annum (with 1.5 – 2 carats of diamond per ton)
Mine Depth: 525 meters
Mining Method: Open-pit (closed in 2004), Underground (Commissioned in 2009)
Mineral/ Metal: Diamond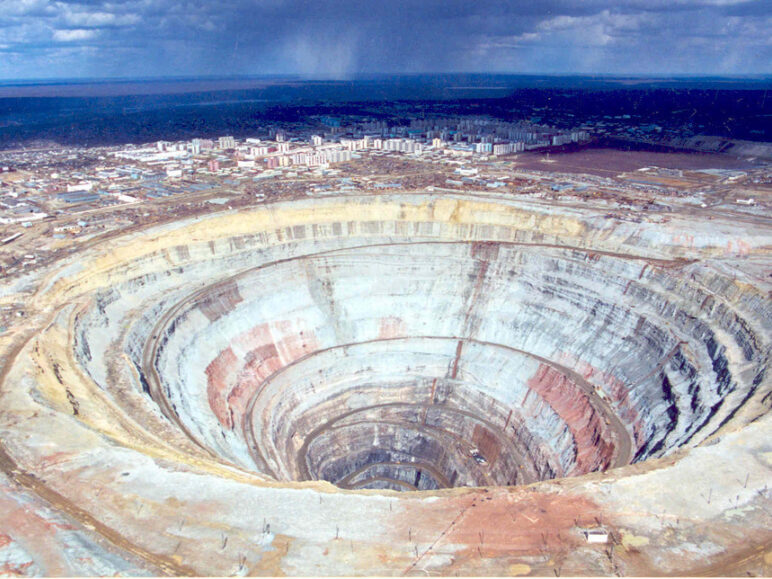 The Mirny mine, located in Siberia, Russia, is the largest open-pit diamond mine in the world. Spanning 1.5km in width and 0.5km in depth, this spectacular diamond mine is certainly a sight to behold. However, it has gained an even more impressive title due to its enormous airstream that can reportedly suck down helicopters flying over the site. The nearby town of Mirny was named after this mine and contributes extensively to its identity as generations of Siberians have worked here.
Prior to its closure in 2004 due to the massive airspace, the Mirny Mine used to produce millions upon millions of carats of diamonds each year. This made it one of the highest diamond-producing sites in the world.
Since then, however, operations have moved underground in 2009 so that diamond production can continue. These days, modern technology assists GoTech's underground mining process for extracting diamonds from beneath the Siberian wilderness – a sight still as remarkable as ever.
7. El Teniente Mine, Chillie
Mining Company: Codelco
Annual Production: 400, 000 Mt of refined copper
Mine Depth: 2,400 Km of tunnels
Mining Method: Shrinkage Stoping and Block Caving
Mineral/ Metal: Copper
El Teniente is an impressive testament to Chilean mining power and technology, boasting the title of the world's largest underground copper mine. Located in the breathtaking Andes Mountain range and connected to the small town of Sewell, El Teniente was initially established all the way back in 1906. The entrance follows an incline 2.2km up from sea level and continues deep into tunnels below, reaching a depth of more than 0.4km below where it began.
The operations have provided large amounts of copper over centuries with estimates showing that quantities of half a million tonnes have been presented each year since its opening. Cutting-edge machinery provides access throughout this remarkable landmark as workers travel along rails from one end to another with ease.
The sheer size and precision involved in accurately excavating such huge sites cannot be underestimated. El Teniente is a truly incredible sight that carries with it history tracing back through many hundreds of years.
8. Oyu Tolgoi Mine, Mongolia
Mining Company: Rio Tinto
Annual Production: 450,000 tonnes
Mine Depth: 1.5km (Deepest Shaft)
Mining Method: Underground
Mineral/ Metal: Gold and copper.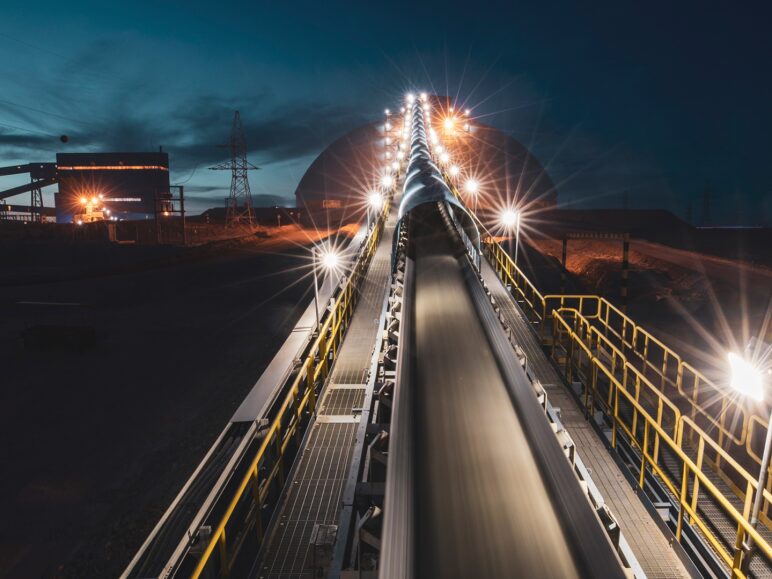 The Oyu Tolgoi mine is an incredible asset for the people of Mongolia. Located in the South Gobi Desert, it is currently one of the largest copper and gold deposits in the world with production expected to reach full capacity by 2021. This "up-and-coming" mine will become the third largest copper mine in the world when fully completed, along with producing almost half a million tonnes of copper annually.
Currently, underground work is being conducted at the Oyu Tolgoi Mine to ensure future operations are successful and efficient. Every step is taken carefully to ensure best practices and safety protocols are strictly followed; properly maintaining a safe working environment for all personnel involved. In addition to providing employment opportunities, this mine has great potential to significantly contribute to Mongolia's overall economy moving forward.
Oyu Tolgoi, located in Mongolia's South Gobi region, is one of the world's largest copper and gold deposits. Additionally, it is known for being a modern, safe, and sustainable operation.
Mining Company: Brazilian miner Vale (CVRD)
Annual Production: 104.88 million Meric tonnes
Mine Depth: 100m -150m
Mining Method: Open-pit
Mineral/ Metal: Iron ore, copper, nickel, bauxite, alumina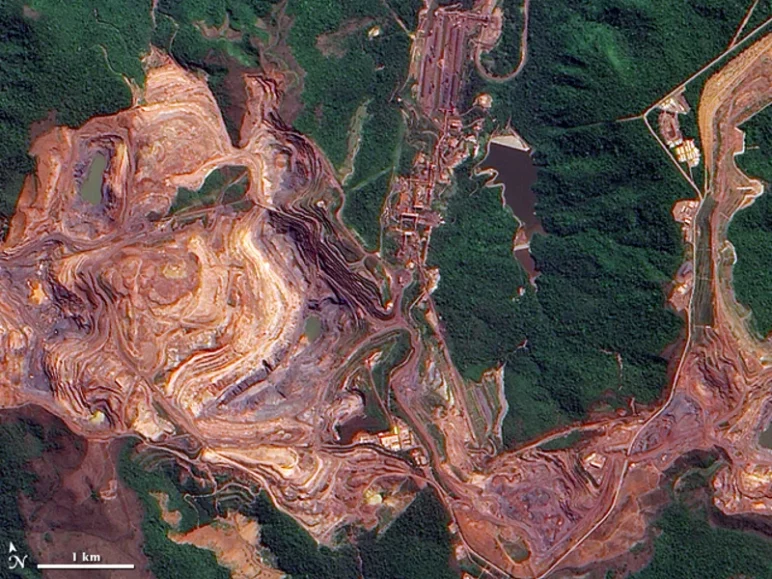 The Carajás mine, located in the Brazilian Carajás Mountains, is an impressive mining achievement. The mine was accidentally discovered in 1967 by a US helicopter during a refueling stop. It has a large open pit for extracting iron ore and various other minerals, including manganese, aluminum, copper, tin, and even gold. The mine's size is impressive; it has produced 7.2 billion tonnes of iron ore since its discovery. Surveyors on board observed the poor condition of the hill and later found that the iron content was as high as 66%.
Not only does this make it one of the most important mines in terms of industry use today but its yield also ensures that it will remain a key asset going forward as well. Despite production having decreased slightly between 2012 and 2013 due to some issues with falling demand from China.
Other countries have picked up their levels of consumption resulting in Carajás still dominating many niche markets worldwide. This is currently being helped by investment from companies such as Vale and Anglo American who are aiming to expand operations at Carajás to maximize output while maintaining quality standards for customers around the globe.
In Summary: Biggest Mines in the World
Journeying through the depths of the world's most colossal mines unveils not only the vastness of Earth's resources but also the intricate intersection of human ingenuity and the planet's geological history.
These titanic excavations, with their staggering dimensions and prodigious yields, underscore the symbiotic relationship between our technological advancements and the raw materials they depend upon.
As we traverse the intricate terrain of resource extraction, it remains imperative to tread lightly, ensuring that the treasures we unearth are balanced with responsible stewardship of the environment.