Elon Musk has closed his $44bn deal to acquire Twitter and take it private, bringing an end to one of the most eventful buyouts in recent history after months of legal episodes between the world's richest man and the social media platform.
Musk later tweeted "the bird is freed" and later said "let the good times roll".
In April, Elon Musk made an unsolicited $44Billion offer for the social media platform, saying that he wanted to convert Twitter into a private company and let people talk freely on the service.
Twitter's board of directors rebuffed Musk's proposal with a defensive mechanism known as the "poison pill". This common business tactic makes the company less palatable to potential acquirers by making the cost of buying stock beyond a certain threshold higher.
Although his initial proposal had few details and was received with disbelief on Wall Street, Musk, the richest person in the world, moved quickly to get commitments to fund his offer, pressuring Twitter's board of directors to take his advances seriously. With the financing secured, Twitter's board met with Musk in April to discuss his proposal.
The parties quickly reached an agreement, and the company agreed to sell itself for $54.20 per share-about $44 billion total. Shortly after Musk and Twitter reached a deal, trouble began.
Musk threatened to withdraw from the agreement unless Twitter provided more information about how it calculated the number of false accounts.
In June, the company announced it planned to grant him access to a wide swath of its data.
In July, Musk announced he was terminating the agreement, citing ongoing disagreements about spam accounts. Twitter later sued the billionaire to compel him to complete the deal. But Musk fired back in a legal document, alleging the company had concealed the real number of fake accounts on its platform, accusing Twitter of deception.
Lawyers for both sides issued more than 100 subpoenas before a trial expected to begin in October, primarily targeting technology VIPs.
In September, a judge ruled Musk can amend his lawsuit to include allegations by the former chief of security at Twitter, who said the company had misled the public about its security practices.
On Oct. 4, Musk proposed a deal to buy Twitter for $44 billion, the price he agreed to pay for the company in April. On Oct. 27, the purchase was completed.
Twitter is acquired by the 'Chief Twit'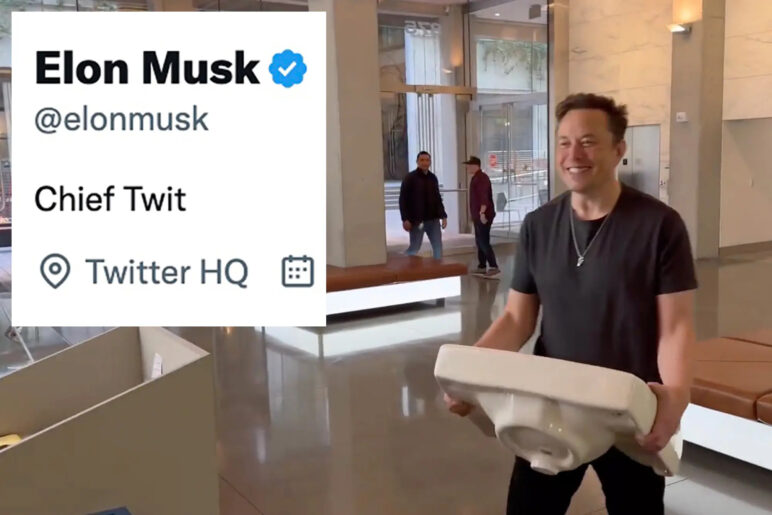 After completing the acquisition of Twitter, Musk soon began cleaning house, and at least four of Twitter's most senior executives, including Parag Agrawal, the chief executive officer; Ned Segal, the chief financial officer; Vijaya Gadde, the top legal and policy executive; and Sean Edgett, the general counsel.
Musk also promised more radical changes to Twitter, including new management, job cuts, and the search for new ways to generate revenue.
Twitter, headquartered in San Francisco and employs more than 7,500 people, has struggled to grow its ad-based business and consistently bring new users on board. The ouster Thursday of the company's top executives is a signal Musk plans to make rapid changes.
Musk, 51, would reshape Twitter without having to reveal its performance regularly. By taking the company private, he does not need to regularly answer shareholders' questions and can make changes to the service far away from public voyeurs.
On Oct. 4, Musk proposed a deal to buy Twitter for $44 billion, the price he agreed to pay for the company in April. On Oct. 27, the purchase was completed.
After months of back-and-forth, legal challenges, and a nearly-missed opportunity for a big court battle, Elon Musk now owns Twitter.
The $44Bn closing on Thursday evening, which came after drama and legal challenges, with Musk changing his mind about buying the social media service, sets Twitter on a precarious path forward. As a private company, Twitter is subject to few regulations and may be under the owner's tighter control.
Musk said the company will create a content moderation board with "widely varied opinions," a clear retreat from his stance that Twitter should be a free speech platform.
He said earlier this year he would "reverse a lifetime ban" on former President Donald J. Trump.
Fisker is still on Twitter even after its founder and CEO Henrik Fisker deleted his personal account in April following the announcement of the Musk-Twitter deal.
Some advertisers have also been skeptical about their brands appearing alongside risky content that Musk has said should be allowed on Twitter, while others have preferred to spend money with social networks like Facebook and TikTok.
Musk wrote an open letter earlier this week with a note posted on his personal Twitter account about his intended approach to running the social media platform.