Do you want to know how to re-register a company on the CIPA Registration System in Botswana? If yes, then this article will help you out.
The Companies and Intellectual Property Authority (CIPA) is Botswana's registrar of companies and a government parastatal. CIPA launched the new Online Business Registration System (OBRS) in June 2019.
CIPA launched its new portal to provide easier access to information about companies, directors, and shareholders.
The OBRS supports updating proprietors' information, 24-hour submission of applications, and online searches. Name reservation, declaration, and registration are now a single process.
Nowadays, anyone can re-register a company with CIPA at the click of a button.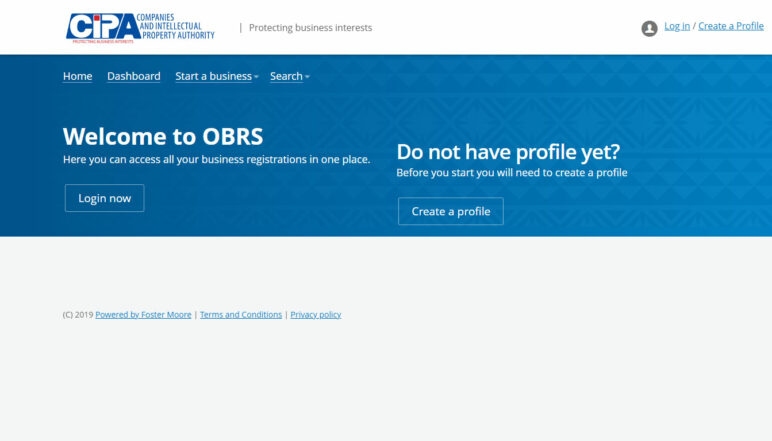 Before you begin please ensure that you have:
Proof of Botswana Citizenship – OMANG for all parties (the system will verify the Omang details, however, if verification fails, you will have to upload a copy of the Omang).
Proof of Non-Botswana Citizen – e.g. passport – a copy has to be uploaded.
All the mobile numbers and email addresses for all directors/shareholders, secretaries, and members.
The appointment dates of every director, shareholder, secretary, and member.
You should only provide the most recent information about the company. Don't include any historical information.
Go to www.cipa.co.bw and login using your previously created profile. Click on the search menu. Click on the company name you want to re-register.
Click on Re-register Now.
Confirm that the name and company number are correct, as per your old certificate. If they're different, please cancel and try searching again. If the details are correct, please proceed.
If you want to use a constitution, click "Yes" and then upload it (mandatory for Limited by Guarantee companies). If not, select NO.
Select whether your company is exempt or non-exempt as per the definitions provided on the system.
Step 2: Address and Contact Details
Enter the Registered Office Address of the company.
Enter the postal address of the company.
Enter the Principal Place of Business of the company.
Enter the phone number and email address of the company.
Step 3: Provide Director Details
Provide the details of each director of the company, including his/her appointment date.
Step 4: Provide Company Secretary Details
Provide the details of the company secretary, including their appointment date. This is mandatory for all companies that are re-registering and is a requirement to comply with the Companies Act. Make sure that the secretary provided has a valid practicing certificate.
Step 5: Provide Auditor Details
If there is an auditor for the company, provide the details of the auditor. If not, continue.
Step 6: Provide Shareholders Details
Provide the details of all the shareholders of the company, including their appointment dates. If there are no shareholders, then the beneficial owner must be provided.
Allocate shares to each shareholder.
Step 8: Review your details
Review all the details provided and edit any if you need to.
Check the box to confirm that the details you've provided are accurate and that everyone involved has given their consent.
Click submit.
Choose between paying by credit/debit card or bank transfer.
You can use any debit or credit card issued by your bank or the VISA cards issued either by Orange Money or Mascom MyZaka.
For a deposit account: you will need to visit CIPA offices or First National Bank and deposit a sum into the deposit account.
Please read the terms of service and confirm you have before making a payment.
Click on the "Pay Now" button.
Enter your card details or select your deposit account and pay.
Once you've paid, your company will be automatically re-registered if all parties are citizens of Botswana. The application will be sent to CIPA for review if the company has non-citizens. This will take 24 hours.
Once the application has been approved, you will receive an SMS notification and an email with your Certificate of Incorporation attached.
You can access your dashboard anytime, click on the company name on My Portfolio, and request a PDF of your certificate. You do not need to certify the certificate as it is available online for anyone to view.
Do you need help with starting or growing your business in Botswana? Looking for information, knowing where to start can be a challenge. We understand that.
We to empower you with the tools need to start, grow and lead in the Botswana market. Email us or contact us.