The United Auto Workers (UAW) union has issued a stern warning to Detroit's big three automakers (19 September 2023) – Ford, General Motors (GM), and Stellantis, the parent company of Chrysler.
If substantial progress isn't made in ongoing negotiations, the union will announce more plant strikes. This would further intensify pressure on these auto giants.
UAW's Determination
UAW President Shawn Fain emphasized the union's firm stance, stating, "We're not going to keep waiting around forever while they drag this out." Frustrated with the lack of progress, the UAW has set a new deadline for negotiations.
Ford Faces Potential Strike in Canada
Ford also faces the possibility of a complete strike at its Canadian facilities if an agreement isn't reached by Monday evening. This development follows a recent strike at one of its U.S. plants.
Uncertainty in Canadian Operations
In Canada, Unifor, the union representing about 5,600 Canadian auto workers, reported that no deal had been reached just hours before the contract expiration. Unifor National President Lana Payne highlighted the seriousness of the situation, stating that if a strike occurs, it will be a total strike involving all 5,600 members at Ford in Canada.
Impact on U.S. Production
Ford operates two engine plants in Canada that produce V-8 motors for the highly profitable F-series and Super Duty pickups assembled in the United States. A strike by Canadian workers could significantly disrupt U.S. production of these vehicles, even if the UAW does not call for walkouts at U.S. truck plants.
Prolonged Strike and Economic Impact
Talks between the UAW and the Detroit automakers have continued amid the ongoing strike. The strike has now extended into its fourth day, with limited signs of progress. The strike, involving around 12,700 workers at three U.S. plants, has halted production and is affecting the production of popular models.
Impact on Production and Economy
The strike has led to production stoppages at plants producing vehicles like the Ford Bronco, Jeep Wrangler, and Chevrolet Colorado. Ford has already furloughed 600 workers at the Michigan Bronco plant, while GM expects operations at its Kansas car plant to cease early this week due to the strike at its nearby Missouri plant.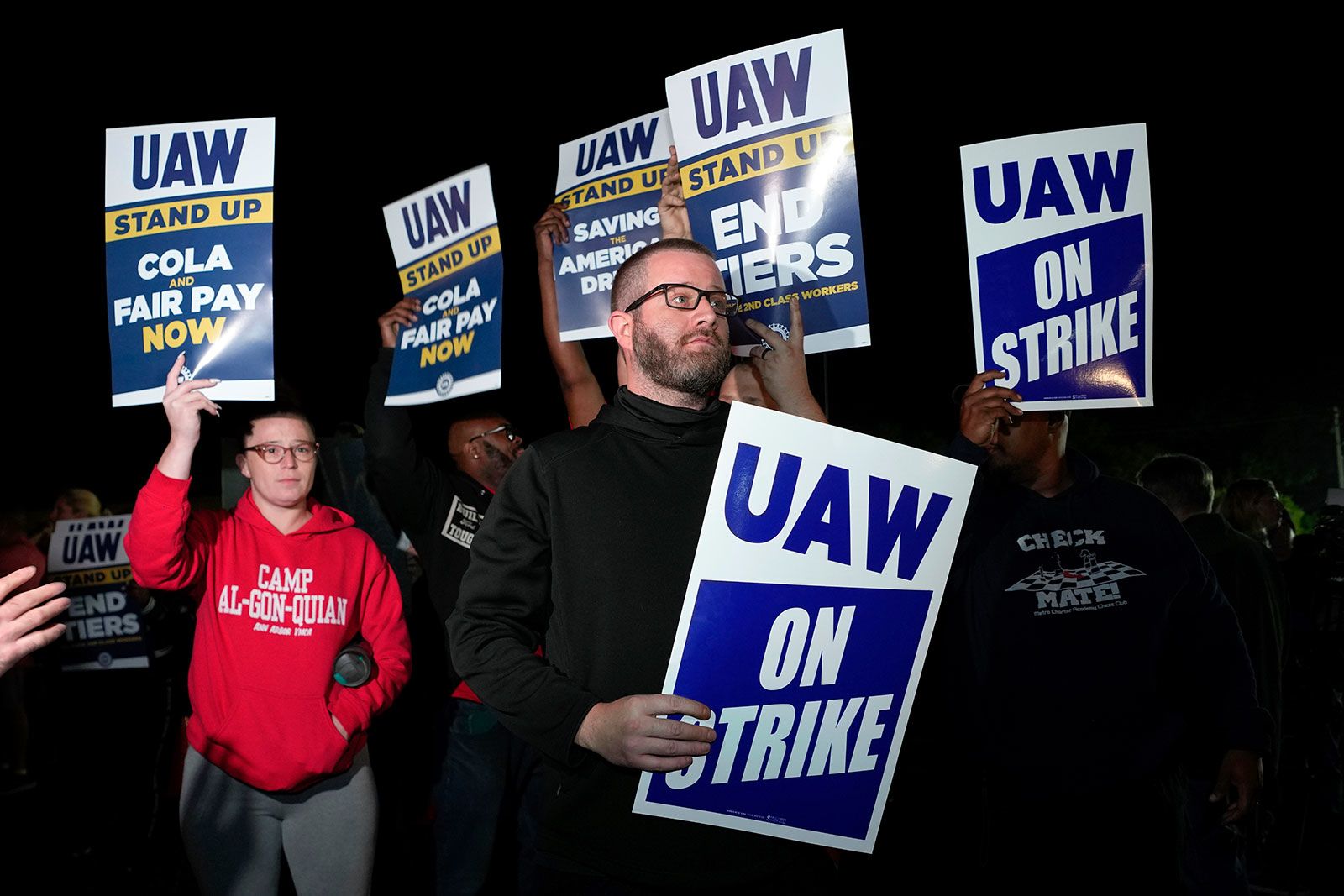 Focus on Pay and Benefits
Central to the standoff are issues related to worker pay and benefits. The automakers have proposed 20% raises over the 4.5-year term of their proposed deals, while the UAW is demanding double that amount through 2027.
The union has also called for shorter work weeks, restoration of defined benefit pensions, and increased job security, particularly in the context of the industry's transition to electric vehicles.
Economic Uncertainty Amid Ongoing Negotiations
As the strike continues, Treasury Secretary Janet Yellen has noted that it's too early to predict the strike's economic impact, which will depend on its duration and the areas it affects.
Observers suggest that if the strike persists, plants producing more profitable pickup trucks, like Ford's F-150 and GM's Chevy Silverado, could be the next targets.